I FINALLY FINISHED A STORY! CHECK IT OUT!
I am Estara Wlencisia Clestros of the Celestros Clan, and I have seen my husband die, night after night, in my dreams.
You may ask how I, the daughter of Jarek Realinata Celestros, who has been betrothed to a man I have never met, since age 8, know who this man is. I will tell you. He appeared in my dreams the night after I went through the ceremony to become a woman in my 17th year. I am not the first Celestros princess to have visionary dreams. My mother tells me she had them, though not of my father but of the future, and my grandmother was a great seer. But me, I dream of who I believe is my husband-to-be. He is kind, only as tall as me, broad-shouldered. His hair is cut short and black, as he says is his clan's custom. His eyes are brown and soft, and look at me with more love than I have ever seen. Night after night, he appears in my dreams, and tells me that I appear in his. We do many things together. I take him to the waterfalls in the canyons of Aum-Ra, and he takes me to the Crystal Fields near his village. We stay together, night after night in our dreams, talking to each other, being passionate, and making love.
Unfortunately, two years ago, my betrothed's Clan, the Kensada Clan, went to war with the Malcotta Clan, delaying my wedding inevitably. I was told that my betrothed, a handsome young man who was valiant and courageous in combat, was leading a whole contingent of men agains the Malcotta, that his silver weapons felled many an enemy on the battlefield. I was told he was handsome and cunning.
But, about eight lunar cycles ago, I started having the dreams. Dreams of two warriors meeting on a muddy, rain and blood slicked battlefield. All around them were the corpses of fallen Kensada and Malcotta, a veritable lake of dead flesh and bone and blood. They nearly had to wade through the bodies. Lightning flashed and thunder crashed, illuminating them for just moments at a time.
But I did not need the lightning to see their faces, no.... though at times I wish I had.
My betrothed was not a huge man, but he was large enough to wield a bastard sword and an axe when he needed to. His short black hair was wet with rain, and the water dripped down over his soft brown, yet determined eyes. He wore chain mail and a red cloak with a large lion on it. He felled foes with precision and strikes which made sure they were dead in an instant. I could only assume that this was my husband-to-be.
But his opponent.... oh... a horrifying sight.... more animal than man, his long hair was in waist-length braids which flew all over the place like whipping tendrils, between them his face twisted into an expression of bloodlust and glee. His two daggers, swept-forward rune blades which whirled and hacked and slashed, seeming to be extensions of his gaunt figure.. In his eyes, his deep, blood-red eyes, was one thing- murder. His armor wass chipped and coated in blood. He snarls and cackles as he hacks his way across the battlefied, his tattered black cloak billowing and whipping about like a demonic wing, held on to him only by a crest- a two-headed dragon... He frightens me so much....
Then, it happens. A bolt of lightning, rolling thunder.... and their eyes meet. And they know only one can walk away. The moon glints off both their weapons, and their eyes lock. They both nod, and another flash of lightning....
They have moved so fast, they are already together, weapons whirling in mortal combat, neither landing a strike on the other. My husband's ears are assaulted too, by the cackles and cries of his opponent. He grimaces, blocking hit after hit. I clench my fists in fear, unable to turn away. The rain intensifies as my husband cries out. Blood slicks out from a wound across his shoulder. I want to run to him, but I cannot. The monster in a man's clothing laughs and licks his bloody weapon. My betrothed has drawn his axe and they attack again, their blades doing a deadly dance, like silver petals of a death blossom in the wind. I am so frightened now. My love, my husband... I yearn for his life....
The monster howls in pain as a blow is landed, my husband's axe slicing across his chest, unfortunately a mere flesh wound. This creature does not stop, he is barely slowed, and he swings his blades in at my husband, imbedding one deep in his shoulder. I want to cry out but I cannot. My love cries out as the blade is wrenched free, and he swings his axe again at the monster, spinning around and arcing his blade. His opponent leaps above the axe only to catch the tip of my betrothed's sword across the bridge of his nose and down his cheek. He screeches, falling back wards and clutching his face. His weapons clatter to the ground. My husband begins to adavance. He clutches his shoulder and cries out for his enemy to surrender, and he will spare his life. The half-man does not respond, still rolling on the ground as blood seeps between his fingers. My husband discards his axe, moving closer. He points his blade out, calling for surrender. The thing reaches out a hand and barely rasps "mm... mercy..."
My betrothed sighs and begins to lower his blade, moving closer. Then it happens. The half-man whirls around, his face twisted into a mask of rage caked in blood. He reaches into his boot and pulls out a small blade, glistening with poison.... I cry out, as loud as I can, but my husband-to-be cannot hear me. He has but a moment to catch a glimpse of the weapon before it is hurled, right into his face. It strikes him between his eyes, and I scream. The half-man rises to his feet and snorts, gathering his weapons. He kicks my love's body once to make sure of death, then takes his poisoned blade and leaves, stalking off.
Night after night I have had this dream, each time it becomes more vivid in my mind. But from the front, news that my husband is alive and well, winning combat after combat comes. I worry that perhaps my dream is a vision to come. I tell my father about this dream and he laughs, dismissing it as only symptoms of a good wife. He says that mother had similar dreams when he was away fighting. He tells me nothing is to worry, that my husband will come home safely. But I still fear the worst... Now most nights I don't even sleep, just lie awake with worry.
I have come to fear the half-man who slays my husband. I have had the dream again, and this time once he has finished off my betrothed, he turns and looks right at me, his eyes lock mine, and I wake up screaming.
This all had me sick with worry. I was eating less and less, and I was barely sleeping. The entire village noted how I was wasting away. Until last week, when we had word that the Malcotta had surrendered, and that my husband had won a glorious victory, defeating the Malcotta warlord in one-on-one combat. I was so relieved when I heard this news. It was also told that my husband would be coming here, as soon as possible, to wed me. I instantly began dreaming of him, my future husband, knowing he would be here, with his glinting silver sword and axe, his kind face and soft eyes. I dreamed of him holding me in his arms, comforting me for the rest of my days...
It was announced yesterday that the Kensada Warriors were only a day's walk away, at the great canyons of Aum-Ra, and were heading towards our village. I prepare myself, my mother helping me weave the traditional dress in which I will present myself as a bride. I take great care in weaving in the Pakken Feathers without damaging their beautiful quills.
Then, the day comes. I have been apprehensive all morning, watching, waiting. I wring my hands in apprehension. Then, outside my house, I hear a commotion. I run outside. They have arrived, and are coming this way. The warriors begin to parade into the village square. Standing next to me, one of my fathers' servants speaks to me. "The Kensada are here!" I smile and nod, pretending to be content, but I cannot wait until my husband arrives.
The Kensada warriors begin to appear, and a knot forms in my stomach as I see their battle standards... black cloth with a dragon spouting flame... I begin to worry. The Kensada are tall and thin, muscular. Their hair is long... and sometimes done in braids. I ask my father's servant why. She tells me that the Kensada warriors traditionally braid their hair for every successful battle they are in. She tells me the Kensada originate from the caverns of Lesrach, and their skin is somewhat pale, and their eyes are strange colours....
This is when I notice that many of the Kensada have red eyes.
I clench my hands nervously. I feel ill. I am afraid of what is to come....
Then, the announcement comes. "Presenting, to Elara Wlencisia Celestros, the new Warlord of the Kensada clan, Kouros Moravis Kensada!"
And he appears. I can barely choke back a scream. Standing in front of me is the guant, black-cloaked man from my dreams. However, he is slightly different. I have never seen the braid which now adorns the left side of his head, sticking out from just past his ear, and a pink scar puckers the bridge of his nose. I step forward still, as is the custom. I go to one knee, the traditional way of presenting myself as a bride. I know I only have one chance to see if my dreams really were visions... as he begins to speak, I reach for his boot, and I manage to find a small blade... its sheath with an attatched poison sac... and my heart sinks. This is the man I was destined to marry, this murderous, bloodthirsty monster. The man in my dreams was the Malcotta Warlord. His killer, a cold-blooded murderer who did not win fairly, but through trickery, is my future husband.
Kouros finishes his speech, and I know what I must do. I rise to my feet with the dagger in my hands. He sees it, and his eyes widen. But before he can do anything, I cry out and plunge the blade into my chest. It is hot, searing as it punches through my ribs and into my heart. I fall to the ground, and my body begins to numb from the poison. I feel the world beginning to slip away.... and soon I will be with that brave young man who was my real love. He reaches out to me, his soft brown eyes inviting me to an eternity with him....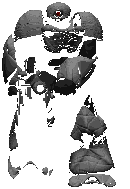 This machine kills facists